Another New Years has come and gone. For those of us that have crossed the magical 40 yrs old barrier you'll understand when I say the years slip by faster and faster. Do you take time to not only make goals for the new year but look back at what good things you accomplished the previous year? I think a lot of us look at the woulda, coulda, shoulda's but don't reflect on the positives. It's a morale booster when you write it all down and realize all the good things you accomplished. Now looking forward you should be energized a little and feel better about the possiblities for the coming year.
Research has shown that writing down your S.M.A.R.T goals is the best way to help accomplish those goals. For me personally, one of my goals is to make significant strides in my wildlife painting and add a little more complexity/interest to them. I spent the last couple months of 2011 experimenting with my painting style and subjects which really helped me learn some new things and gain some confidence. It also helped clarify the direction I want to go with my art. It reinforced my desire to be a realist painter of wildlife and get crazy with my wine related work. My biggest influences since my early teens were Robert Bateman and Carl Brenders. Then Terry Issac and Stephen Lyman entered my viewfinder. I don't want to paint "Like" them, their styles are theirs. Rather, I want to produce the same quality of work. This year the push is to work that much harder towards that quality of painting and learn, learn, learn. I have a long ways to go. ;-)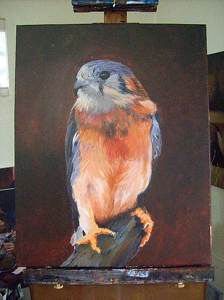 Kestrel - Work in Progress
Lastly, you know in your heart what's right and what's maybe not so right. My biggest goal this year is to focus on what's right for me and my goals. Do the things that move me forward towards becoming a true quality professional wildlife painter. There are a lot of opportunities that arise but the question one needs to ask is if it moves you towards YOUR goals. You get a lot of advice but if you need to spend a month painting roses for an oppportunity to show and your goals are to be the best fighter jet painter, does that really progress you towards your goal. Bear in mind, deviating from your path is not necessarily wrong. Quite the contrary, it can be beneficial and a true growth experience to take a short fork in the road. Your challenge is to filter out the advice and opportunities that are well meaning yet aren't really a means to an end.
Does it feel right in your heart is generally my determining factor. Ultimately your inner voice or instincts will tell you if what's right and what's wrong. Following the path less traveled can be lonely at times. People won't understand why you do this or don't do that but that's ok. It's your path and you know the direction that path is leading. We may not always have a clear road map, sometimes we only know the general direction BUT with our written goals, hard work towards those goals and trust in our instincts we know if we're heading the right way.
Here's to us and following our path! I wish you godspeed.