Have you ever ben on top of the world so to speak then the earth opens up and swallows you?
I sold a painting and shipped it a week and a half ago. One was purchased with the intent of being a Father's Day gift the day before and one from April. The April purchaser is a collector and allowed me to continue to display it and just ship it when I was done. The timing was right so I shipped it along with the painting purchased the day before. The most recent purchase was meant to be a special fathers day gift. The story and reason for the purchase made it special and personal. I was ecastatic to know it would be received almost two weeks before Fathers Day giving them plaenty of time to ship it out to the intended recipient.
Then the nightmare begins. The collector in Oregon received the painting, opened the box and there was the painting intended for Chicago. Yes, The UPS Store sent them to the wrong locations. This was a Tuesday and they emailed me Weds. morning letting me know the dilemma. I immediately contacted The UPS Store and the downward spiral turns into a cliff jump. In the interest of brevity it takes until Friday for anything to happen. The painting in Oregon does get shipped back Friday but the painting in Chicago that needs to get to Oregon yesterday does not. Never mind all the pleading I do explaining the situation that it's time sensitive. Ultimately the collector in Chicago has to ship it themselves (thank you very much again) Saturday but it would be $130 to overnight and delivered Tuesday vs. $14 and get there Thurs.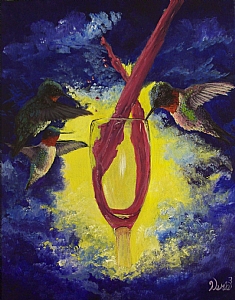 The UPS Store failed, not UPS. I feel like I failed the collector in Oregon by not ensuring this kind of thing wouldn't happen. What a bummer. Future shipments don't leave my sight until the label is on it and multiple painting shipments get processed one painting at a time. Have you ever encountered something like this? What did you do to ensure this kind of thing didn't happen again? Who is your preferred carrier/drop off location?