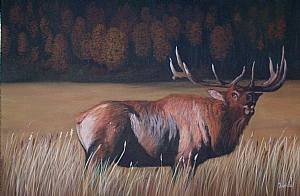 I know, I know... "What the heck Bill??? What is a painter doing blogging about tips to score higher in Zuma Blitz on Facebook?" Well I'm a gamer and grew up in the arcades of the 80's. I admit I'm sort of a PC game addict when I'm not painting. The Call of Duty series for example is like crack. Life is meant to be a little fun for pete's sake!
I try to paint for an hour or two and take a break. That break just happens to be spent these days most likely playing Zuma Blitz on Facebook. My break system works for me and my painting. I return to the canvas with fresh eyes and an open mind ready to push forward. I do have marathon sessions at the canvas but a five or ten minute break occasionally helps keep me charged up. Enough with the background info, let's get to it.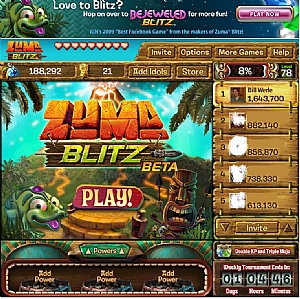 Are you frustrated at not scoring high enough in Zuma Blitz? I was too until I figured out a good combination of powers to use. My highest score without powers is 860,000 plus change. A good score but I wanted to crack a million and I did a month or so ago and now it's time to offer up some help to others. Today, 4/18/11, I had another personal high score, 1,643,700. I only show this so you know I'm not really on crack writing this for giggles.
Here's how I did it.

1. Relax - Your going to make a bad shot here and there. So what? It's inevitable so move on to the next shot. once you get frustrated you'll start making more bad shots. To score high you'll want to keep the bad shots to a minimum. Relax and get in your groove. It's not like it costs you anything so finish out your game and do better the next game.

2. Build up your MOJO - Play for a few days without powers and let it build. If you can spend the 10 or 30 idols on the triple mojo for a dozen games or 24 hours do it and don't play with powers while you have it. I once spent the 30 idols for triple mojo for 24hrs and went from 65,000 mojo to 203,000 mojo. Your going to need it for the next item if your serious about high scores.

3. Powers - Your going to have to use them to rack up an amazing score and they only get more powerful and expensive the more you level up. Here's the powers I use right now.

Voodoo Bombs - helps in blowing away large chunks but more importantly helps in blowing away fruit

Epic Fruit - I believe this to be the single most important power to get you to a high score. This increases the frequency in which the fruit appears. Every time you get a fruit the points earned increases. Within a short period of time your scoring 50,000+ per fruit. A couple 100,000+ fruits makes a big difference in your score at the end of the game.

Timelord - Extra time every time you hit a chronos ball. Those ones with the hourglass? Yeah, don't miss them, they give you an extra 6, 7, or 8 seconds where the default is just 5.

From the Zuma Blitz help:

Fruit Master (Level 23) - Increases how often Fruit appears by 3 seconds (on average).
Juicy Fruit (Level 53) - Increases how often Fruit appears by 5 seconds (on average).
Epic Fruit (Level 62) - Increases how often Fruit appears by 7 seconds (on average).


Timelord (Level 77) - Adds 3 seconds to Time balls (for a total of 8 seconds).
Chrono Balls (Level 30) - Adds 1 second to Time balls (for a total of 6 seconds).
Tempus Fugit (Level 66) - Adds 2 seconds to Time balls (for a total of 7 seconds).

4. Strategy and Tips

Everyone has their own but here's what I focus on during a game. First and foremost, can I get a fruit? Then can I get a Chronos ball? Then can I get a bomb? Then can I get a multiplier ball? Then can I get a gap shot? Then can I make a match?

Hot Frog: I don't spend mojo on the power because most of the time my tunnels are so clear I'd be wasting the extra fireballs (and mojo) but when I get him in game I go for the multiplier balls, chronos balls and bombs. The faster you can get the multiplier balls the better. Your score increase rapidly at x6 and above. On some boards you can clear the one side of the tunnel with your three fireballs earning a nice bonus as well.

Speed is of the essence. You'll need to develop a quick accurate shot that doesn't involve thinking or strategizing. That's where relax comes into play. Your going to make bad shots at first, a lot of them maybe. Keep playing wiht the intention of constantly shooting as fast as you can ACCURATELY. You want as many shots as possible to earn the maximum points. You will sometimes need to make a shot that doesn't make a change but not very often.
Play early in the morning or later at night. Facebook and Zynga have a gajillion people hammering away at their servers. For optimal spped and network performance early and late are your best options.
I hope this helps you improve your game and if nothing else fast track you to some amazing scores. If this little quicky guide helps don't hesitate to come back and let us know your high scores!