Big things have been happening for a new friend of mine. Doyle Wheeler of Ammo-Head Design has rolled out a brand new logo, a new website and was recently featured in the Spokesman Review Arts section in an article written by Jennifer Larue!
Doyle Wheeler and the art of scavenging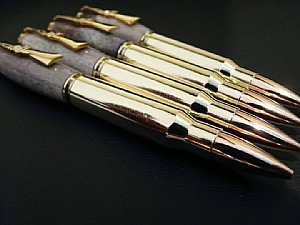 Doyle re-purposes used items and utilizing his amazing craftsmanship turns it into beautiful works of Art. Some examples of his works of art include pens such as the William Maltese Heirloom Fountain pen collection, spent bullet shell pens, wine barrel pens from local wineries like Latah Creek Winery, hydrographics and the list goes on. Where we see junk Doyle envisions something beautiful to be used again.
All of his work draws on his 15 years in the collision repair business and the associated attention to quality and detail he mastered in his work in that industry. Ironically it was a car crash and a debilitating injury from it that led him to becoming a full time artist and he hasn't looked back since.
You can find Doyle's work at Devtan Trading Company in NorthTown Mall, Brock's Gunsmithing, Latah Creek Winery and Townshend Cellars. Don't miss our upcoming event together at Mirabeau Park Hotel June 8th 5:00 - 7:00 P.M. It's the perfect blend of functional art and fine art inspired by our love of the great outdoors. We look forward to seeing you there!