Traveling. I live to explore new places. A new favorite mode of travel for me is via a cruise ship. We were given a cruise a couple years ago that took us to the Caribbean and Mexico. I have to say it was an amazing experience. So much so that we booked another cruise a few months after we got back home and a year and a half later we embarked on our second cruise. This one was on the Pacific Ocean side down to Cabo San Lucas and Puerto Vallarta, Mexico.
Now if your like I was before we actually looked into taking a cruise you might be thinking to yourself, "Cruising is for the wealthy." That may have been true in the past but it's certainly not the case anymore. The big players are Royal Carribean and Carnival Cruise lines and both offer what amounts to giant floating five star hotels with all the amenities you can think of. A room with a balcony (You NEED a balcony room) will cost about $650 for the week. Holy smokes Bill!! $650???? Yep, per person, but hold on a sec before you jump to the "that's crazy" conclusion.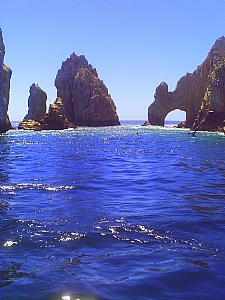 If you were to sit down and compare the costs of a cruise vs. a week long vacation driving or flying somewhere you'll be surprised. When you take a crusie you get, free food. All of it, room service, the buffets, the fine dining room, the pizza place, the hamurger joint, all of it is free. How much do you spend to feed a family of four on vacation? You also have hotel/lodging costs, fuel costs and entertainment costs to compare. The exotic locations you visit are included. Cabo San Lucas was amazingly beautiful. We stayed for two days because they skipped Mazatlan due to the trouble Mexico has been having with the drug cartels. "You'll be staying an extra day in Cabo Mr.Werle." "Oh please don't throw me in the briar patch....."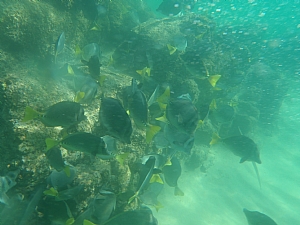 On our first cruise we boated up the Belize river and saw crocs, howler monkeys, giant iguanas, numerous birds and even sat among a group of manatees before going up the river. We swam in the warm crystal clear caribbean ocean taking in the amazing colors of tropical fish then getting a $1.00 Corona to toast the day. This cruise, which we returned from two days ago, we went whale watching and had grey whales swimming next to our boat, I had a wall of tropical fish surround me and we got to experience down town city life in a foreign country. We also watched humpbacks breeching for a half hour, pods of dolphins swimming next to the ship and amazing sunsets and stars at night from the deck of our room. When we left Spokane it was 5 degrees, Cabo was 80 and I was sunburned by Tuesday. I was able to get in two little 5 x 7 paintings as well. Nothing more inspiring then warm sun and fresh ocean air!
I've always been a tent and canoe kind of vacationer but I've discovered as I've gotten older that it's kind of nice to feel spoiled on vacation once in a while and have no worries or concerns. I highly recommend if you like traveling looking into a cruise. It could be your experience of a lifetime.