Have you ever canoed before? I recommend it it if you haven't.
Having grown up in Minnesota I'm lucky enough to have experienced both boating and canoeing. Both have there places and I enjoy the heck out of both. My personal preffered mode of transportation on a lake would be the canoe. We live in a busy noisy society and the peace canoeing offers is it's most appealing quality.
The anticipation of getting on the water after a drive up into the mountains to my favorite fly fishing only lake is maddening. There is one moment in particular that I look forward to more than any. After dropping the canoe off my shoulders and sliding it into the calm still waters of lake X, hearing the rocky shore scrape against the bottom I get the adrenalin rush of four energy drinks. I get stoked knowing what's to come. I liken canoeing to what hang gliding must be like. Gently riding the currents untethered from land.
I ease my self into the canoe and with my paddle push off from shore. Almost sitting in the water the wave of calmness and peace overwhelms me as I'm set free. The fresh clean mountain air brings me the scent of crystal clear water, evergreen forests and the mountains themselves.
I drift away from shore and the world echoes with the sounds of silence.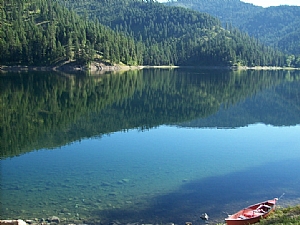 Lake X